ATYPICAL SWITCHBOARD CABINETS
Atypical production
For maximum customization of our products to the individual requirements of the customers, Spálovský, a.s. offers a production of atypically designed or modified switchboard cabinets.
These cabinets are based on the construction design of the Astra cabinet, and are modified based on individual requirements and specifications supplied by our customers. Our technicians are happy to receive the specifications for an atypical switchboard in the form of an electronic drawing as DWG, PDF or other file formats.
The main benefits of these atypical cabinets include customized mounting fixtures, perforation, glazing, etc. before applying the coating to prevent any disruption of the surface finish. The standard surface finish is by powder coating with thermo-reactive polyester paint in RAL 7035 grey.
Examples of atypical cabinet modifications:
Design in various dimensions, with split doors, cabinet assemblies
Perforation for outlets, instruments, ventilation BEFORE powder coating.
Glazing, internal doors, protective roofs.
Powder coating in various RAL shades, or application of an increased corrosion protection with zinc-rich formula.
Recessed designs for built-in cabinets.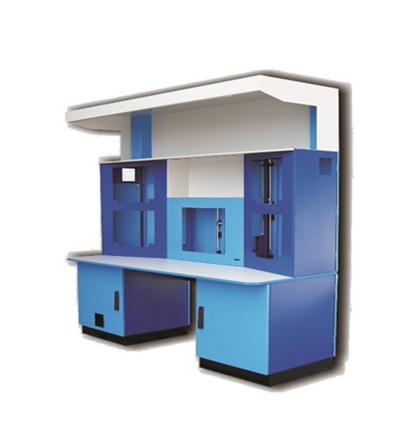 EMC cabinet "MICHELLE"
Electromagnetic compatibility
The fast development of electrical engineering has introduced also problems associated with electromagnetic interference and the resistance of electrical appliances and assemblies to this interference. The capacity of an electrical equipment to function satisfactorily in a given environment is referred to as electromagnetic compatibility (EMC). The most visible and at the same time the most complex situations occur in electrical installations inside buildings and in situations of exposure to high-power electromagnetic fields.
Electromagnetic compatibility is an electrotechnical interdisciplinary field, the aim of which is to maintain an acceptable quality of the so-called electromagnetic environment. One of the ways to achieve this compatibility is to increase the resistance of sensitive equipments, and the other way is to reduce the level of the harmful impact of the interfering system. Measures must be adopted already in the phase of the equipment's design, as additional modifications of any equipment are not just less effective, but mainly unnecessarily expensive.
Spálovský, a.s. therefore decided on developing its own cabinet design complying with ISO 9001. The technical parameters of this cabinet and its EMC resistance are tested at VOP-026 Šternberk, s.p., division VTÚPV Vyškov.
Technical parameters:
Cabinet designed for use as wall-mounted, dimensions: (width 1000, height 1000, depth 350 mm)
Cabinet framework made from 11.373 paint-coated sheet steel, welded border hem with hot-dip galvanised finish
EMC sealing – spring/foam sea
Maximum coverage IP 54
Door mount – right-sided
Espagnolette lock
Electromagnetic dumping 60 dB
Frequency 30 – 1000 MHz
Stainless steel cabinets
For use in environments with high hygiene requirements and anticorrosion protection, Spálovský, a.s. offers a production of cabinets made from fine steel alloys – STAINLESS, quality 17241, DIN 1.4301.
These cabinets are supplied in two variants:
STAINLESS brushed – matt finish, finely brushed welds.
STAINLESS coated – stainless steel with paint coat finish in different RAL shades.
In this stainless steel design, we offer a full range of our standard ASTRA cabinets, but also various atypical designs of the cabinets individually made upon the customer's requirements and specification.