HIGH VOLTAGE SWITCHBOARDS
In 2020, Spálovský, a.s. entered into licence partnership contract with Schneider Electric for the production, delivery, and servicing of SM6-24 type of high voltage switchboards. The technicians and electricians of Spálovský, a.s. are trained for the design, production, delivery, and servicing of SM6-24 high voltage switchboards in compliance with the conditions of buildings and projects within the meaning of the applicable standards and regulations.
SM6-24
| | |
| --- | --- |
| Loss of service continuity category: | LSC2A |
| Coverage: | IP3X for outer sides, IP2X between sections |
| Class: | Ik08 |
| Partition class: | PI |
| IAC AFL/AFLR | |
SM6-24 are intended for interior installations. The dimensions are: width 375, 500 and 750 mm, height 1600 mm, depth 840 or 1020 mm.
These dimensions allow for easy installation in small spaces or inside prefabricated stations.
The switchboard is expandable.
Contains SF6 gas.
The cabinets can be fitted with various additional equipment:
Manual/motor control.
Local/remote control.
Surge arresters.
Auxiliary contacts for status signalling and communication.
Shock protection.
Short-circuit protection sensors.
Toroidal or instrument transformers.
SM AirSet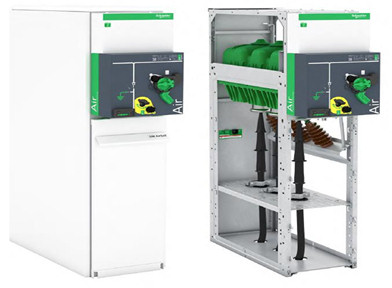 SM AirSet is a new line of modular switchboard without SF6, insulated by air only. SM AirSet comes in the same dimensions and parameters as SM6.